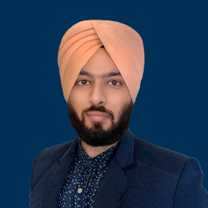 Hello 👋🏻 I'm a Freelance  

Frontend

 Developer

My name is Parmeet Singh Asija. I craft scalable products with modern web technologies.
Testimonials

Vaibhav Bhardwaj
CTO - Credit Culture
I got the chance to briefly work with Parmeet and I must say that I enjoyed every single second of that. He is one of the few people (I've worked with) who have a zeal to learn more, can quickly adapt to new technology, is a fast learner, highly productive and more important is honest and humble. He has got a very pleasing personality and is very presentable. Parmeet is self disciplined, can manage and plan his time very efficiently and can deliver tasks on time. I would like to recommend him as a Full Stack Developer (JavaScript) who can deliver polished front end applications on ReactJs that are backed by equally capable backend developed in NodeJs (deployed on AWS Cloud) People like him are an asset to any team.

Neha Kapur
Project Manager - Classic Informatics
I really enjoyed working with Parmeet. Highly recommended for React-based web development projects with the rich user interfaces. He is eager to learn and improve in all areas. He has excellent communication and technical skills. He is hard-working, ensures deadlines are duly met, and never compromises with product quality.
Davinder Singh
CEO & Co-Founder - Harmindra International
It was our pleasure to work with Parmeet. He worked on creating the online identity of our business. He got not just the development of the website done but got the copywriting and product photography work done as well. The website created by him is fast and responsive. It has helped us land many new international clients and increase our sales by a whopping 25%. I would strongly recommend hiring him.
Skills
Frontend web development
React, Javascript, Typescript, Gatsby, Next.JS, GraphQl, Apollo, HTML, CSS, Styled Components, Redux, Stripe
UI/UX Design
Figma, Framer Motion, Photoshop, Illustrator
Let's start making your
perfect

website